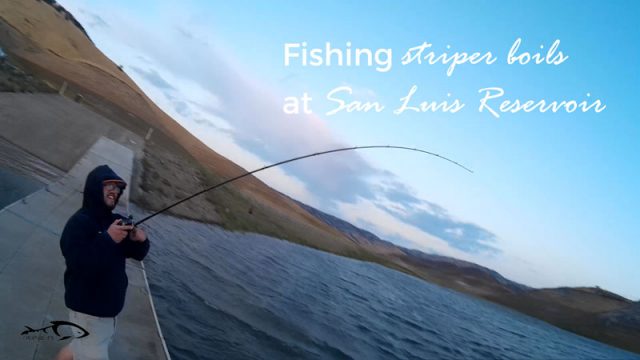 Striper Boils at San Luis Reservoir
Sometimes you just have to make the best out of a bad situation.  On a recent trip, that's exactly what my cousin Chia and I did.
It was still dark as I towed my boat towards San Luis Reservoir which is about 10 miles west of Los Banos.  Driving west on CA 152, we were surprised when we saw lighting in the distance.  Rain wasn't in the forecast!  At least that's what the weather man said.
We kept going hoping it'd move on or stop by the time we reached the lake.  As we got closer to the lake, it started to sprinkle.
We pulled into the park entry way and heard the bad news.  The lake was closed to boating due to high winds.
Bummed out, we decided to park next to the boat ramp and make the best out of the trip.
We took our time getting our poles setup as the morning progressed.  I had a Duo Realis 120 jerkbait handy at the time so I tied it on.
The morning was getting brighter but the sun hadn't yet peaked through yet as I threw out my first cast.  Seconds later, I hook up.  It pulled hard as I reeled it in.  Seconds later, it comes off.
Ecstatic that the fish were biting, I cast my lure a 2nd time.  Instant hookup.  As I was reeling it in, the surface around me began to explode with activity.  There was a school of stripers right in front of us.  I shoulda left the boat at home!
Blow up after blow up we hooked into these stripers.  They kept moving so we did as well.  They were picky but somehow the quick jerk with a short pause hit the sweet spot.  In 40 minutes we caught over 15 solid fish.
Below is the video of what went on that morning.